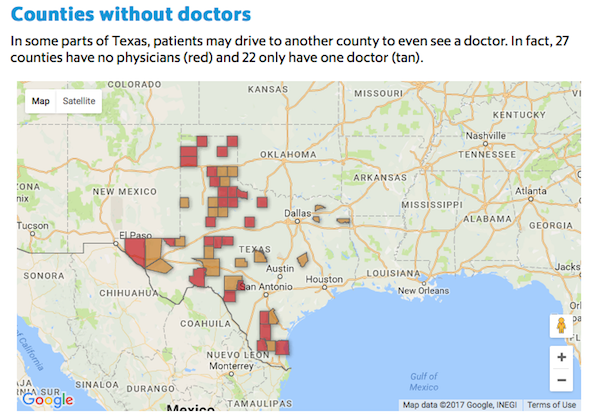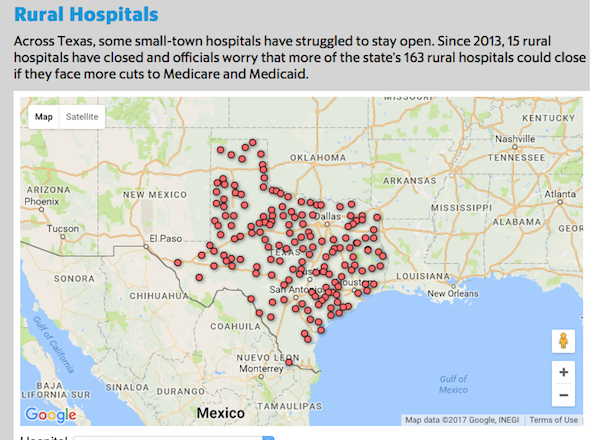 This November 16, 2016 This November 25, 2016 newspaper article written by Bill Hanna in the Dallas Fort Worth Star Telegram talks about the problems with rural hospitals closing in Texas.
Excerpts
In some areas of West Texas and the Texas Panhandle, the nearest hospital can be as far as an hour away. Since 2013, 15 rural hospitals have closed across Texas. 
[There are] 27 counties in Texas that does not have a licensed physician. Another 22 only have one, according to the Texas Department of State Health Services

"You really should live within 30 minutes of a hospital for emergency care services — that's not a problem in the Metroplex, but it is in West Texas," said Don McBeath, director of government relations for the Texas Organization of Rural & Community Hospitals (TORCH).

Since 2013, 15 rural hospitals — located in counties with no more than 60,000 residents — have closed across Texas.

Rural hospitals face many challenges, including competition for doctors from larger cities and ever-increasing student debt for doctors coming out of medical school.

There's also uncertainty about another round of government reimbursement cuts.

"Starting in 2011, those cuts have been collectively taking away an estimated $100 million a year in payments to Texas 163 rural hospitals," McBeath said. "The majority of the cuts are from the ongoing federal budget sequestration reduction, penalties associated with the Affordable Care Act, and reduced payments in Texas Medicaid outpatient care to Texas hospitals. Most of the 2011 state Medicaid cuts were restored by the Legislature in 2015, but the federal Medicare cuts continue."

At a Sept. 13 hearing of the state's Senate Committee on Health and Human Services, legislators discussed the future of rural healthcare.

State Sen. Charles Schwerter, R-Georgetown, an orthopedic surgeon and chair of the committee, questioned whether all rural hospitals could — or should — survive.

"I'm pretty comfortable with saying at least a third of our rural hospitals are in stress today," McBeath said. "We've had 15 close the last four years. Prior to that, we were having one or two every other year. There's no question in my mind that's what made it happen."

Its lone physician, Ed Garner, is in his 60s, and the community has been recruiting a replacement for more than a year.

Overall, Texas faces a physician shortage. The state ranks 45th nationally in the number of physicians per capita, according to the Texas Medical Association. A survey by the Dallas-based physician search firm Merritt Hawkins, in partnership with The Physicians Foundation, discovered that Texas ranked last in the United States in terms of doctor morale.

Cottle County, where Paducah is the county seat, spends roughly 20 percent of its $1 million annual budget on a countywide EMS service for its 1,452 residents.
1995: Goliad County Hospital, Goliad County; Gilmer Medical Center, Upshur County; Brooks County Hospital, Brooks County

1996: Crockett County Hospital, Crockett County; Garza Memorial Hospital, Garza County

1997: Shackelford County Hospital District, Albany

1998: Palo Duro Hospital, Canyon, Randall County

1999: Silsbee Doctors Hospital, Hardin County; East Texas Medical Center, Rusk, Cherokee County

2000: Medical Center of Winnie, Chambers County; Baylor Medical Center, Ennis, Ellis County

2001: Hi-Plains Hospital, Hale County; East Texas Medical Center, Gilmer, Upshur County

2002: Hall County Hospital, Memphis, Hall County

2006: Living Hope New Boston Medical Center, Bowie County

2007: Barix Clinics of Texas, Wylie, Collin County; Renaissance Hospital Terrell North Campus, Kaufman County

2008: Dolly Vinsant Memorial, San Benito, Cameron County

2010: Lakeside Hospital, Bastrop County (later replaced with freestanding ER)

2012: Colorado-Fayette Medical Center, Weimar, Colorado County (reopened in August 2015)

2013: Renaissance Hospital, Terrell, Kaufman County; Shelby Regional Center in Shelby County (later replaced with freestanding ER); Cozby-Germany Hospital, Grand Saline, Van Zandt County (reopened April 2015 as Texas General); Central Texas Hospital, Cameron, Milam County (reopened in November 2014 as Little River Healthcare)

2014: Lake Whitney Medical, Whitney, Hill County; Good Shepard Medical Center, Linden, Cass County; Cleveland Regional, Cleveland, Liberty County; East Texas Medical Center, Gilmer, Upshur County; East Texas Medical Center, Mount Vernon, Franklin County; East Texas Medical Center, Clarksville, Red River County

2015: North Texas Regional, Bridgeport, Wise County (acquired by Wise Health in 2013, closed inpatient services in January 2015 but continues as urgent care center); Hunt Regional, Commerce, Hunt County (inpatient hospital closed but continues as freestanding ER and outpatient facility); Bowie Memorial Hospital, Montague County

2016: Gulf Coast Regional Medical Center, Wharton; Nix Community, Dilley, Frio County
Source: Texas Organization of Rural & Community Hospitals (TORCH), Texas Department of State Health Services and State Office of Rural Health

Read more here: http://www.star-telegram.com/news/state/article116987298.html#storylink=cpy
Source: Across Texas 15 rural hospitals have closed in last four years | Fort Worth Star-Telegram